Omnidirectional soundsource for building acoustics
An optimal test of the acoustic insulation can only occur with the right tools. Designed according to international standards ISO 140-3 and ISO 3382 applicable to this type of measurements. An omni-directional sound source (speaker dodecahedron) with 12 speakers to run high-power tests of building acoustics: the HD2050
Only 38.5 cm. diameter. Equipped with 12 high-power speakers. According to ISO3382. Optionally we deliver a high power amplifier for 'white noise' and 'pink noise': the HD2050.20. A subwoofer, HD2050.40 is also available in this range.

Of course the system is equipped with tripod, brackets, etc. Further information see HD2050 series.
Mmore information? Call us at +31-85-2731917 or mail.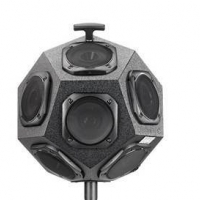 Search
Sign up for the newsletter
Newest products
Your shopping cart